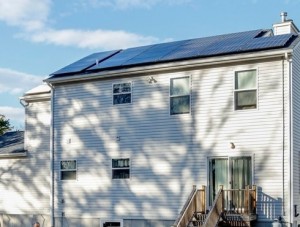 A year and a half ago, Melanie and John Maiorca's electric bill topped $200 every month. Last month, they paid PSEG a whopping $11.
​
NEWSDAY — The reason for the Maiorcas' savings? They installed solar panels on their newly built 2,100-square-foot Colonial in Ridge. "It seems too good to be true, but it's not," says Melanie Maiorca, 31. "Everyone's rates are going up, but my power bill is $11.
Photovoltaic or solar electric systems absorb the sun's rays and convert the energy into electricity. Along with lowering electric bills, real estate experts say, purchasing and installing the rooftop panels add to a home's value.
The best candidate for solar panel installation is a homeowner with a roof that is relatively unshaded and not pitched at a sharp northern angle, says Mike Bailis, the co-founder and chief of sales at Ronkonkoma-based SUNation Solar Systems.
"Most have some less-than-perfect conditions, with a roof that faces a little east or west," Bailis says. "The most critical thing really is shade. We can overcome some of that within a design, but you need to collect relatively clean sun for seven to eight hours a day."
It's also best to have a roof that's 10 years old or newer. The standard warranty on a solar system is 25 years on performance and 10 to 12 years on parts, Bailis says.
Solar energy systems have surged in popularity in the past few years, says John Rocchetta, a partner with GreenLogic, a solar panel installer with offices in Roslyn Heights and Southampton.
"Having solar now is becoming mainstream," Rocchetta says.
Demand for solar energy systems plateaued in 2016, when the 30 percent federal tax credit was slated to expire, Rocchetta says. The rebate was instead extended through the end of 2019, and will go down to 26 percent through 2020 and 22 percent through 2021.
Solar systems do require a sizable investment, with the average system costing $30,000, but financing is available, as are state and federal tax credits, with New York State providing a rebate of 25 percent of the cost up to a maximum of $5,000 in addition to the government's 30 percent tax rebate.
Even with financing, most solar systems still provide a savings. Melanie Maiorca says that, even while paying off the loan, she pays $80 less per month than she did for her previous power bill.
"They have taken a variable cost that will only go up over time and converted it to a fixed cost over time," Bailis says. "The math can tell you if the price of electricity continues to go up moderately, they recoup their investment after seven years."
It is possible to lease a solar energy system, which is less expensive than purchasing one, but those in the industry recommend buying over leasing.
"If a homeowner wants to sell his homes and has leased a solar system, the buyer has to qualify for and take over the lease, which can cause problems during a sale, says Rocchetta.
"Don't just sign up with a person who knocks at your door," Rocchetta says. "Do your research. If you don't like your car, in five years you get a different car. You only have one shot at solar."
Annette Mina, a broker with Douglas Elliman Real Estate in East Islip, highly recommends investing in the purchase of a solar system to add value to your home.
"This new buyer is walking into a house and not seeing a $300 to $400 a month electric bill," Mina says. "Anything that saves the client money is going to provide value."